Solar Powered- No electrical outlets or wires required. This floating solar garden fountain is powered by sunlight. Making it eco-friendly and energy saving.

Strong Efficient Design- This solar fountain is made with high quality PE plastic, a brushless pump, and highly efficient solar panels. It is very light weight, allowing it to float on the water. The outer shell can withstand the harmful sun rays and harsh weather easily.

4 Sprayer Attachments- Equipped with 4 sprinkler heads. Different sprayers can create different water patterns and change the height of the water.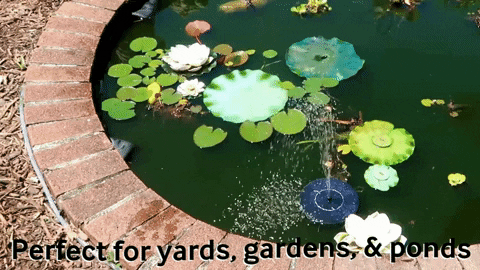 Fish & Bird Safe- While the fountain is running, it increases the PH of the water by maintaining a water cycle, thus improving the life of ponds, gardens, fish, and birds. All while giving your yard that exotic vivid look!
Easy to Use- Just put the entire fountain on the water. Once the solar panel gains enough sunlight, it will automatically turn on!


Usage & Troubleshooting Tips:
Please peel off the plastic film protector on the surface before using.
Make sure the solar panels are fully exposed to sunlight, NO SHADE can cover any of the panels or fountain will not work properly.
Cloudy days will bring varying results.
Bottom of panel with pump should be fully submerged in water when in use.
The Pump can be detached from the solar panel, please clean the pump regularly to avoid clogs and shortened pump life.